First Aid for Health Professionals
Basic Life Support, CPR, defibrillation training and medical emergency first aid for doctors, nurses and clinical staff working in a healthcare setting.
Continuing Professional Development is compulsory for healthcare professionals such as doctors, nurses, physiotherapists and general practice and clinical and non-clinical staff. The GMC (General Medical Council) requires doctors to keep up to date as one of the CPD requirements set by the National Health Service for revalidation.
This short first aid course on Basic life support CPR, defibrillation training and medical emergencies will help to fulfil your CPD obligation. First Aid for Health Professionals designed in accordance with Resuscitation (UK) guidelines. Duration of training will be 2 - 3 hours depending on your requirements for defibrillator AED training.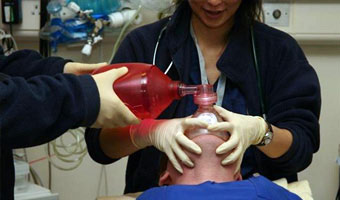 Training Includes
Basic Life support - Adults & Children Practical CPR Session.
Demonstrate how to administer first aid safely and effectively to a casualty who is unconscious.
Choking.
Automated External Defibrillator (AED) training if required.
Pricing
Included within the price of training:
Professional Instruction
Professional Development training for Health Professionals.
This course is certificated for three years - HSE guidance recommends annual refresher training.
Contact us to discuss your requirements.
Group Rates: Onsite Training at Your Venue
GROUP SIZE
GROUP RATES
12 people  
£384  
Up to 12 people  
£468   
(Includes Defibrillator Training)
Discounts available for multiple bookings