First Aid For Schools in Wiltshire
This First Aid for Schools course is a general introduction to first aid for teachers and support staff in schools in Wiltshire.
Take advantage of your inset days with this short first aid course delivered at your school. This practical first aid course deals specifically with first aid for children. Training meets the criteria required under the guidance issued by the Department for Education complying with the Statutory Framework for the Early Years Foundation Stage (EYFS). This course does not replace the need for employers to have the appropriate number of first aid at work and emergency first aid trained staff.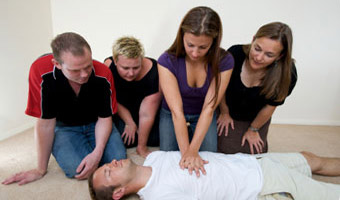 Training Includes
Assess and prioritise a first aid incident
Deal with an unconscious casualty
Deal with an adult or child who is choking
Carry out resuscitation (CPR) on adults and children
Control bleeding and manage shock
Recognise and deal with a range of common injuries
Maintain first aid records and first aid kits
All the above topics include relevant information to adults, children & babies.
Group Rates: Onsite Training at Any Wiltshire Venue
| GROUP SIZE | GROUP RATES |
| --- | --- |
| For 12 delegates | £384 (£32 per person) |
| For 18 delegates | £468 (£26 per person) |
| For 26 delegates | £520 (£20 per person) |